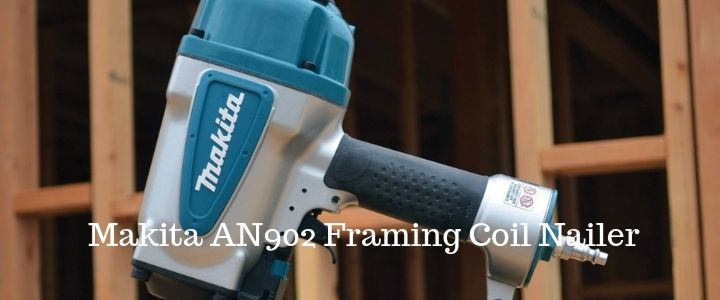 Makita AN902 Framing Coil Nailer
Is there something like 100% perfect? No, there isn't but there are things that are close to 100%. Here, we've something like that. Very close to complete perfection. We tried our heart and soul to find imperfection but all we got is close to nothing.The name of a framing coil nailer that won our debate team is Makita AN902 Framing Coil Nailer. This a framing nailer with a lot of power in it. On top of it, the magazine is coil-shaped which can hold up to 300 nails at a time. Makita AN902 is very convenient and reliable product for nailing jobs. Let's start the Makita framing nailer review with a quick specification.
Specification
Power: Compressed airNail
Dimension: 12-1/2" x 5" x 14-7/8"(LxWxH)
Features
Want precise flush and countersink nailing? Makita coil nailer has a tool-free depth adjustment mechanism.
Easy to handle jammed nail because of the clever nose design.
The canister allows nail size adjustment which ensures easy loading with maximum versatility.
Easy for the operator to control nailing operations with contact mode trigger
For more grip, better handling and comfort, the handle has a rubber grip on it.
To increase durability, Makita used Metal exhaust cover plate
There is a no-mar tip as an accessory to prevent the surface from any damage.
A whooping 300 nails per load! The magazine is huge and can have from 150 nails up to 300 nails per loading.
Do framing, sheathing, fencing, decking, pallets, crating, you name it. All jobs are to done perfectly with Makita AN902.
The working air pressure is said to be 60 to 120 psi but the recommended air pressure to work with is 90 psi.
The manufacturer is giving 3-years limited warranty.
Now, let's jump into the detailed Makita framing nailer review about those features.
Power
As usual, this pneumatic Makita coil nailer also runs on compressed air. A minimum of 60 psi air pressure can start this beast. It can operate with maximum 120 psi. But the recommendation is 90 psi.Makes some noise like other framing nailers. The noise level is approximately 99.1 dB and the vibration it makes is 2.63 m/s2.
Nailing
When it comes to nailing experience, the Makita coil nail gun is engineered carefully for the maximum efficiency.The nails it allows are to be 15-degree round head and length of 1-3/4" to 3-1/2". The diameter should be 0.099″ – 0.150″ and the nails should be wire collated.For faster work experience in any job situation, we have Sequential and Bump firing modes here. Also we will get depth adjustment mechanism with 8 settings in 1/32″ increments.To make sure that you don't have to load too often, the magazine size allows you to load 300 nails at a time.
Easiness
Here, Makita coil framing nailer will give you not 1, not 2 but 3 tool-free advantage to make nailing easier than wearing pants. First one is the depth adjustment feature. There's a tool-free dial with 8 settings. The second one is switching shoot modes with no tools at all. Sequential and bump firing modes are just one flip of a switch away. The third one is something that will help you when you in trouble with a jammed nail. Some other nail guns need a tool to free jammed nail but Makita coil nailer needs no tool.Easiness also comes with the design. You can load nails faster. You will also find more grip and comfort for the rubber bumper.
Package
This section of Makita framing nailer review focuses on what's in the box. You will get a pneumatic nailer oil, a safety goggles, and a no-mar tip besides Makita coil framing nailer. The no-mar tip is there to prevent your work surface from any kind of damage.Now, it's time for the pros and cons with solutions for the mighty Makita AN902 Framing Coil Nailer.
Pros
Lightweight and easy to handle
2 modes of firing; sequential and bump
Depth adjustment with 1/32" increment settings
Cons with the solution
Frequently Asked Questions
Q: Will I be able to use my local nail for this nailer?
A: Yes, as long as it meets the criteria. The length should be 1-3/4" to 3-1/2", the shank diameter should be .099" to .148", and the nails should be wire collated.
Q: Which nails should I be using?
A: You should buy 15-degree round-headed framing nails. You can Senco.
Q: Does it include any accessories?
A: Yes. You'll get pneumatic oil, a glass, and a no-mar tip. The oil is not much but it'll help to get going. The glasses look cheap but work okay. The no-mar tip actually helps a lot.
Final Verdict
After a thorough Makita framing nailer review, we want to say that you should definitely buy this one. Search across the web, read the reviews, and you will have the proof of our words. Makita is well known for its product quality. They tend to keep the promises they make to the customer. Before the stock runs out and has the mighty Makita AN902 Framing Coil Nailer.