There are a variety of nailers available in the market. However, one right type of nailer is important to do a particular job. This will save you time and money as well. Before buying a nailer, everyone must have thorough research on nailers. However, all information available on the web may not reliable. There can be some flaws in that information. So you need a credible source of information where you will get in-depth knowledge about different types of nailer. This will help you to buy the best one suitable for you. Let's first see the various types of nailers available in the market along with framing nailer buying guide.
Types of nailer
Generally, nailers are of five types. They are narrated below :
Framing nailer:

This type of nailers is used to do heavy-duty jobs such as framing, pallet building, and fencing. Construction, manufacturing and home building industries use this type of nailer a lot. This model offers both switchable contact and a sequential trip to perform.

Roofing nailer:

These nailers use shorter nails with a larger head. Siding or similar type of materials can be used in it. This is mainly designed to fasten roofing shingles. Again, this model offers a sequential trip, switchable contact, and tool-free depth adjustments.

Flooring nailer:

This type of nailer is designed to lay tongue and groove floorboards. All this makes your work simple and quick. These facilities allow you to place your nail at the right angle within the right depth. You can activate it with a mallet and essential for floor-based applications. It is always ready to install a variety of floor hardwoods over the on the floor.

Finish nailer:

This nailer is recommended for jobs like paneling, window and door trim, casing, baseboard, crown molding, casing, cabinetry, and shelving. You can compare it with indoor job purpose nailer. The type of its gauge is lighter and shorter. It is available both as cordless and as air compression nailer. You can use it for molding around doors and windows, chair rails or for cabinet making.

Brad nailer:

This lighter duty nailer is for 18 gauge nails. The main difference between brad and finish or framing nailer is in the magazine. Brad nailer's magazine is not angled like finish orframing nailers. Brad nailers are mainly used to conduct jobs with precision like upholstery or small wood projects.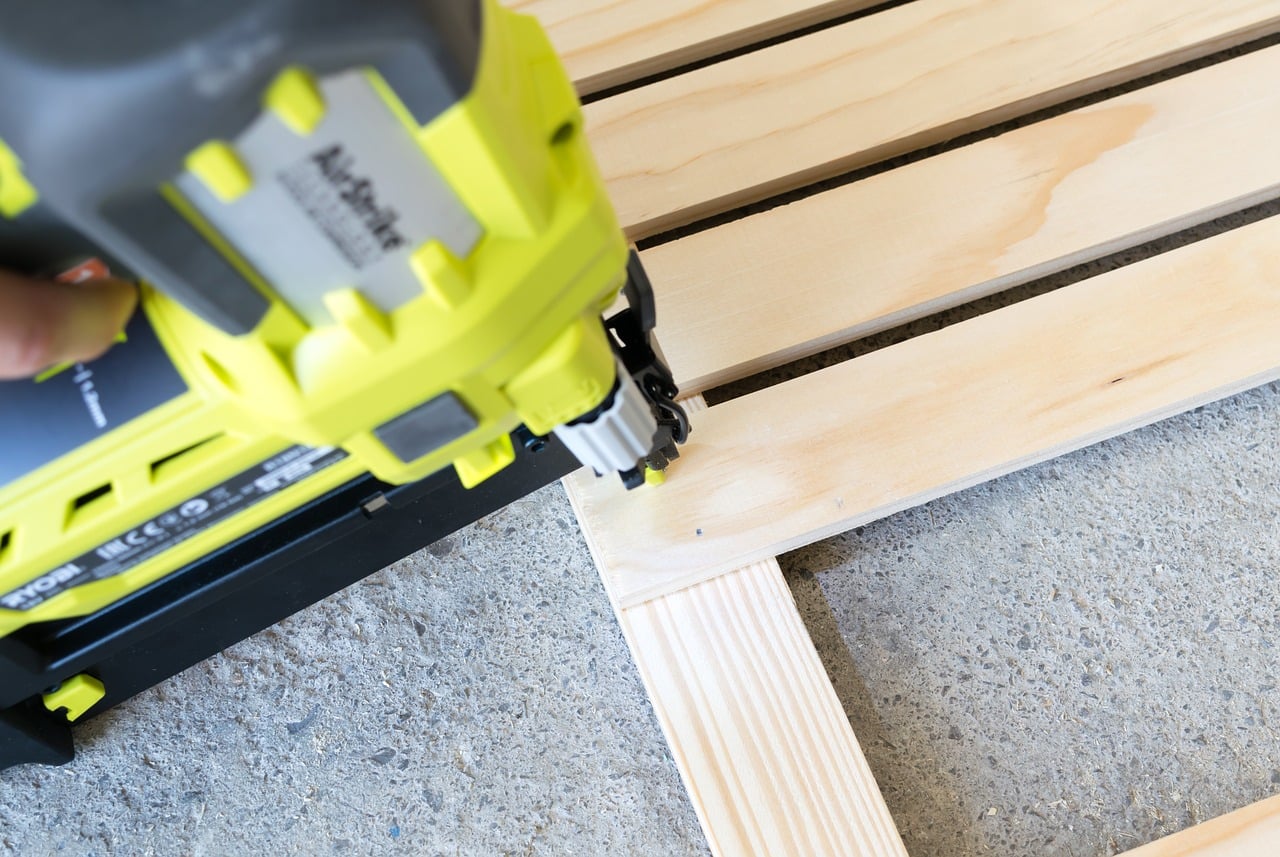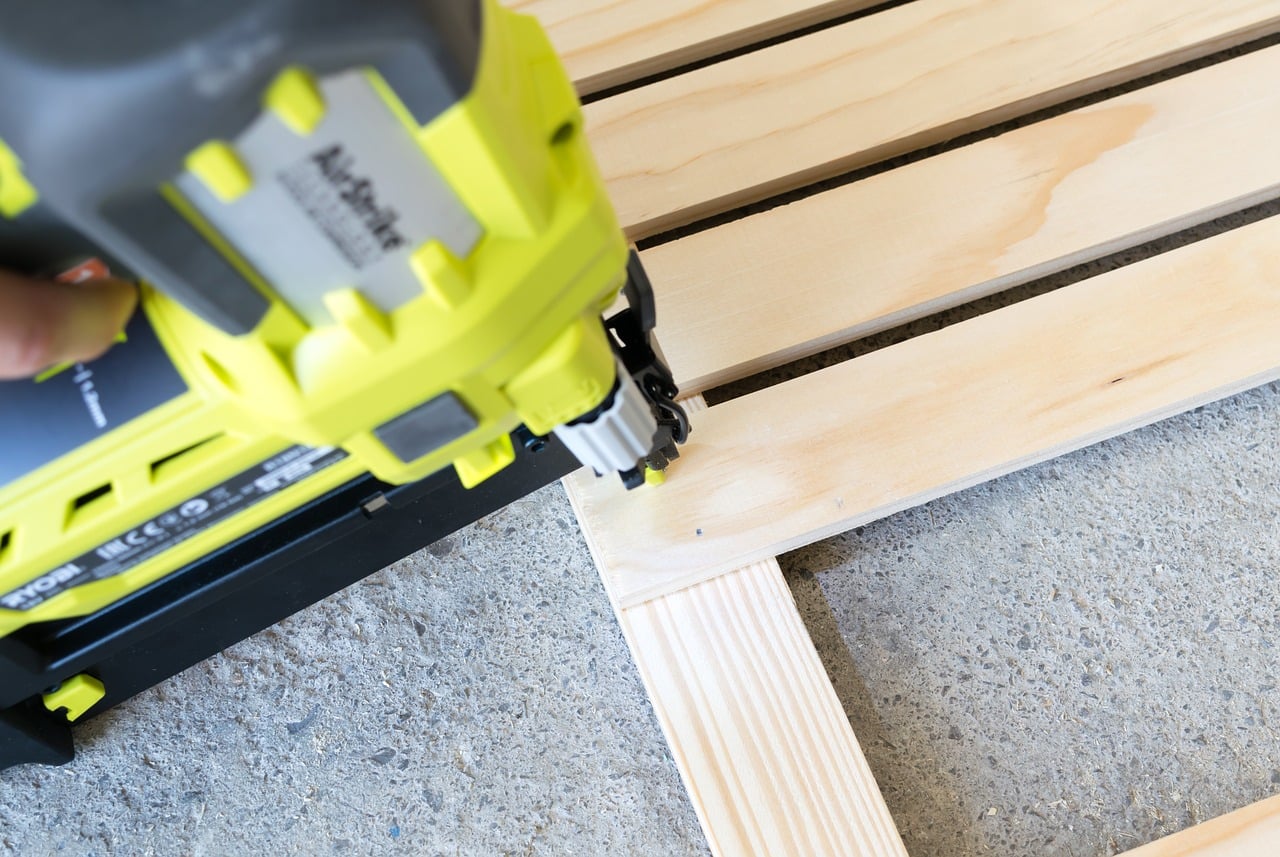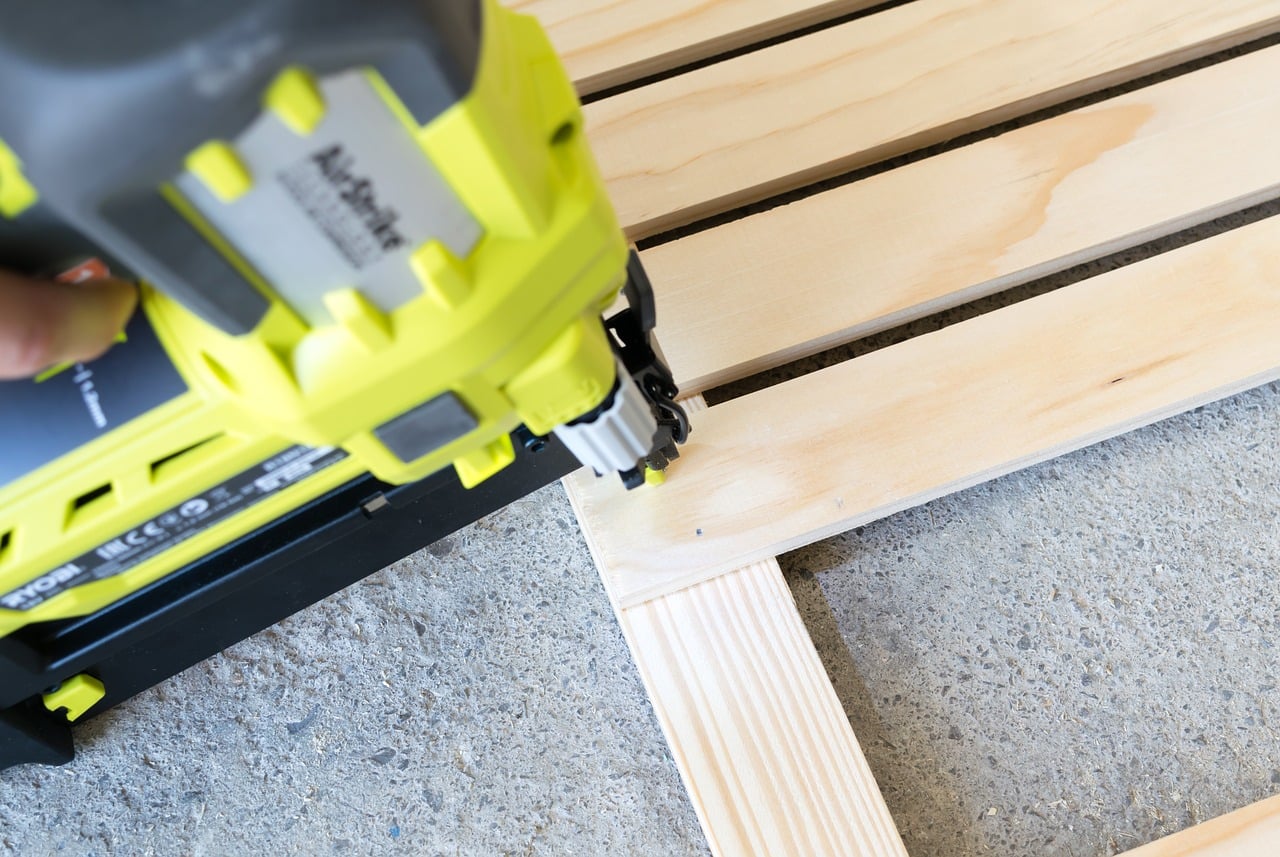 Which nailer is suitable for what kind of job?
As you are now acquainted with several types of a nailer, they all are suitable for different types of job. That's why each nailer is unique in nature. Some particular jobs along with the specific type of nailer needed for that job are given below :
Trim work, furniture & cabinet building: For this kind of jobs, you can use finish, brad, staplers or pin nailer. Finish nailers quite similar to brad nailers. However, they need large-sized nails. The nailhead of the finish nailers can is covered by finish or paint. Staplers don't use nails. They use narrow crown staples. You can use it on thin materials or with fabrics. You can also use it to attach house wraps. They are designed to work in tight places.
Small craft projects: For this type of work, you will need brad, stapler or pin nailers. Brad nailers use small thin nails into small thin materials. Again, these nailer' head is small or may not have any head. That's why they can be properly embedded into thin materials. Again, this allows you to have a polished look on the work surface because of its less noticeable work. Pin nailer sleaves no trace of their work. Pins are tiny and headless. That's why it has access to tight spaces than other nailers. They are capable to run small home projects like building a birdhouse or small trim projects.
Roofing: For roofing, you will need roofing nailers. This type of nailers is specially designed to drive fasteners into shingles. They are faster than a hammer. Again, they ensure stable placement of the shingles. So you can enjoy your roofing more delightfully with this roofing nailer.
Flooring: For flooring, you have to use a flooring nailer. You can install hardwood floors by using these flooring nailers. These nailers won't have any direct contact with the floor which is essential to keep the polished look on the work surface.
Framing & deck building: For framing and deck building, you can use framing nailers. These nailers are capable to handle heavy-duty works. They are able to drive three-inch nails into thick materials. Construction works like building and framing fencing or decks are done easily with this framing nailer.
Metal: Metal connector nailer is suitable for doing metalwork. These nailers are powerful to connect metal with other materials. Framing braces, anchors or hangers can be performed easily by using this nailer.
Siding: For doing siding related jobs, the siding nailer is essential for you. It can work with siding materials like aluminum, wood, and vinyl.
Nailer power sources
The power source of a nailer is a crucial element to look for. The mobility of your nailer and types of work it can handle will depend on a nailer's source of power. There are mainly three types of power sources available for the nailer. They are described below:
Pneumatic nailer: This type of nailers uses air which is coming from a compressor. The ratings for the pressure of this compressor is measured in terms of pounds per square inch (PSI) and ratings for volume is measured in terms of cubic feet per minute (CFM). Before purchasing a pneumatic nailer, you have to make sure that the PSI or CFM is equal or greater than the requirement of the nailer. Though this type of nailer is ready to perform heavy-duty tasks, it limits the mobility of itself. Because of its large-sized compressor, you may not carry it everywhere.
Cordless, Battery-powered nailer: This type of power source of a nailer, gives you the access to carry it anywhere. This type of power source mechanism makes it lighter to carry than pneumatic, air compressor nailers. However, it is not as capable as pneumatic nailer to perform heavy-duty tasks.
Cordless, fuel driven nailer: This type of nailers use combustion to drive nails. There is a disposable gas cartridge inside the combustion chamber. The fuel is driven from that cartridge. An electric charge is provided from a battery to ignite fuel. So an explosive force is created to drive a nail. As cord or hose is not required for it, this ensures the mobility of the nailer.
Nailer firing methods
Firing method us also influential to decide which type of nailer you should buy. Here are some common firing methods are given below to choose the one best suited for you.
Contact firing: In this type of firing mechanism, you can rapidly drive nails in succession. It means as long as you tap the trigger, this will drive nails rapidly. So this type of nailer will ensure your speed of work. Though it makes your work fast, it requires perfection to handle this type of nailer. Those who are beginners in this nailing field may feel a little bit risky to use it.
Single sequential: Here the nails will not bump in succession. You can use a single nail at every time. This will sequentially drive nails. However, you must use a safety tip for using it. You have to keep taped the safety tip for preventing damage to the work surface and release and reactivate for another nail.
Full sequential: Here you have to first activate the safety tip and then tap the rigger to drive the nail. You have to continue this procedure for each nail. Though it makes the work slow, you are not going to drive any nail unintentionally.
Single actuation: There is a little bit difference between this firing mechanism and single sequential firing. Here you can bump for the first nail. After this, you can drive nails sequentially.
Choosing nails for nailers
The type of nail is also an important matter before purchasing a nailer. Generally, nails are of the round-shaped head or of "D" shaped or clipped head. These nails are generally joined together with plastic, paper or wire. The clipped heads of nails allow it to sit properly in a solid surface. For security, some nails are secured with long strands and flexible wire. Most nails have a layer of adhesive or lubricant. When the nail contacts with the nailing surface, the compound fixed with heats it and lubricates the nail. After cooling down the compound, it creates a strong bond with the nail to the nailing surface. All these increase the holding strength of the nail.
Features of nailer: There are some particular features or criteria which must have within a nailer. These features are given below:
Exhaust system: Exhaust mechanism of a nailer is an important matter. Especially when you are working in a dusty area, you really need an exhaust system which you can move in different directions. Some exhaust system is tool-free and some require special tools for adjustments.
Jam clearing: A good nailer will jam occasionally. So you have to ensure whether your nailer jams occasionally or regularly. If it jams, there must be a special mechanism installed there to clear the jam quickly.
Depth adjustments: The depth adjustment mechanism allows you to control how depth your nailer will drive the nail on the work surface. Based on the depth settings, your nailers can sink nails or countersink them.
Large triggers: If the trigger of the nailer is large, this will make it easy to operate the nailer.
Carrying case: A carrying case should become with the nailer to protect it from outside.
Air connectors: There is swiveling air connector in pneumatic nailer. This will reduce air hose tangles. You can also move the air hose when you reload the nail.
Protective guards: Protective guards protects your nailer from flying debris. Though it will wear out for a long duration, you have to choose what type of protective guards which is replaceable.
Nail size: You will need a different size of nails for different jobs. Then you may need to switch the nail size. This facility is available in many nailers where you can adjust the size of the nail within the nailer.
What to look for before buying a nailer generally? (buying tips)
There are some particular things to consider in case of each type of nailer. These determinants are given below :
Pneumatic power nailer: This gas powered nailer uses compressed air to drive nails. There is an internal piston inside this nailer to draw air from the compressor. Let's see the favorable and unfavorable things about it.
Favourable things: Easily drives larger nails on a harder surface.Easily drives larger nails on harder surface.
Unfavourable things: Because of the size of the compressor, this nailer limits its mobility.
Combustion powered nailer: There is a cartridge inside this nailer which is filled with flammable gas. An electronic control mechanism is used to draw the flow of the gas into the combustion chamber. Its function relies on a battery that ignites the gas and drives the piston.
Favourable things: This mechanism does not rely on the compressor to drive larger nails into a harder surface.
Unfavourable things: The extra cost of buying gas canister.
Electric powered nailer: Depends on electric passing through a magnetic field to drive nails.
Favourable things: Cordless power supply mechanism doesn't need any compressor or gas canister.
Unfavourable things: Remains unproductive while recharging the battery.
Brad nailer vs Finish nailer: There are some specific differences between brad nailer and finish nailer. The person who needs a brad nailer have different requirements than other who needs finish nailer.
Nature of the brad nailer: •They are small in size. •Generally headless or may have a narrow head •Narrow head helps to embed the nail into the wood firmly.
Nature of the finish nailer: •Able to handle bigger nails •Big in size than brad nailers •The size of the head is small •You can hide the head of the nail with finish by using wood putty or paint.
Who needs brad nailer? •Anyone who needs to affix nail in a blind spot requires this type of nailer. •Especially the cabinet makers usually require this type of nailer. •Anyone who needs to affix nail without using screws or pre-drilling requires brad nailer. •When you require a lightweight piece to affix, you will need this type of nailer.
Who needs a finish nailer?
•You will need to finish nailers when you require enough depth or width to hold all types of finishing. •For affixing heavy molding, finish nailer is required.
What to look for when buying a finish nailer?
There are some particular factors that you have to consider before buying a finish nailer. They are given below :
Magazine type: For finish nailer, you can have online magazine or angled magazine. Online magazines are suitable for rapid firing. On the other hand, angled magazine is for sequential firing. So you to decide which type of nailer is suitable for you.
Power type: There are three types of power sources are available for a finish nailer. They are pneumatic, gas and electric power nailer. All have their own merits and demerits. You have access to an electric one, you need to choose that one for better work.
Nail fire mode: For finish nailer, you can choose a contact or sequential firing gun. This completely depends on your art of firing per minute.
Depth adjustment: In case of finish nailer, you have to care about the depth adjuster of the nailer. If the adjustment is too deep, then it may cause damage to the work surface.
Jam clearing: Jams are inevitable in nailers. So while choosing a finish nailer, you have to look for whether it has jam clearing properties or not. Jam clearing properties can reduce the rate of jams while using a finish nailer.
What to look for when buying a brad nailer?
There are some specific issues that you have to consider before buying a brad nailer. They are given below :
Types of brad nailer: There are mainly two types of nailer are popular. One is pneumatic and another one is electric cordless nailer. Both have their own merits and demerits. You have to decide which one is suitable for your job requirements. A pneumatic nailers powerful. However, it is heavy to carry out. This problem can be avoided by using a cordless electric nailer. This type of brad nailer is portable to use. However, it is not as powerful as a pneumatic nailer.
Nail size: Most of the brad nailers are of 18 gauge. That's why the size of its nail is not very big and easily bendable. If the size of the nail is longer, there is a chance of breaking down. So make sure that the size of a nail is suitable for your brad nailer.
Depth adjustment: The depth adjustment of a brad nailer must be flexible enough to do versatile works. There is a detent twist mechanism in most of the best quality brad nailers. This mechanism helps to adjust the depth of the brad nailed easily.
Magazine size: The size of a magazine depends on its capability to load nails at a time. Brad nailer's magazine is able to load 100-1000 nails at a time. An electric brad nailer is able to load 1000 nails at a time.
Belt hook: Look for a brad nailer which has belt hook. This makes easier to carry the nailer easy to carry. It enhances the ease of portability of a brad nailer.
Brand and warranty: Brad nailer must come from a well known brand which will ensure its popularity. The warranty for it will ensure its longevity.
Nailer safety
There are some safety tips that you must follow to avoid any kind of accident. These safety measures are:
Must repair the damaged part of the nailer before using for further use. It reduces the chance of an accident.

While working with it, you have to wear safety glasses or other safety material as specified in the manual.

Keep away your hand, feet or other parts of the body while operating the nailer.

Before making adjustments, performing maintenance or clearing the jam, you have to disconnect the air compressor.

Never use the nailer where there is a chance of igniting dust, vapor or gas.
Nailer cautions
Before using a nailer, you have to follow some safety cautions. Safety should be the top priority while using any equipment. Your safety is in your hand. So always try to follow some safety measures while operating a nailer. These safety cautions are given below :
Every nailer requires a specific type of fasteners as specified by the manufacturers. So make sure that the fastener complies with the building codes and regulations. Never disable the safety features of the nailer.

In order to avoid unintentional injuries, use a nail gun with a sequential trigger. This will not drive nails rapidly. So this reduces the chance of any unintentional accident for you.

You have to read out the safety measures given in the manual of the nailer.

Never point the nailer to anyone. You won't do this whether it is connected to the air supply or not. Because it may be harmful.

Never carry the nailer by touching its trigger. This also may cause harm to you.

Make sure that the nailer is disconnected with the power supply before going for jam clearing or having any maintenance work.

Always wear safety equipment before starting your work with the nailer.
Conclusion
All the nailers available in the market are unique in nature. That's why the nature of the demand for nailers also vary from person to person. One may need for framing nailer and others may require to use a brad nailer. So in order to have a thorough knowledge of different types of nailers and their nature of use, you can have a precise look over the details given here. All this information will help you to minimize the time and effort before buying a nailer. You won't be misled among various types of nailers available in the market.